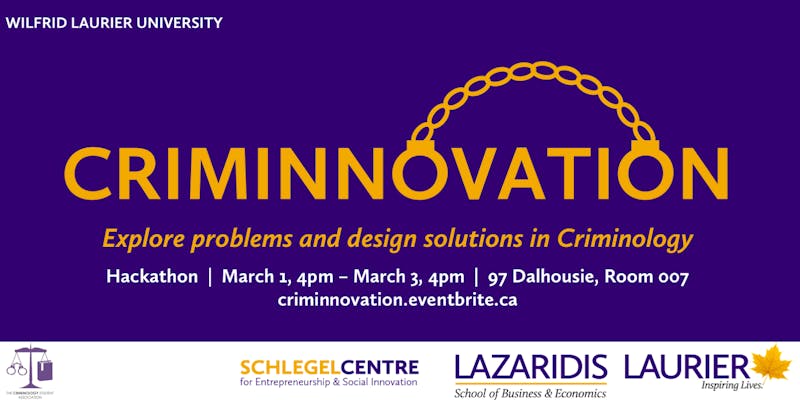 We're excited to announce our participation in Laurier's 2019 Criminnovation Challenge! The event runs from Friday, March 1st, 4:00 PM to Sunday March 3rd, 4:00 PM.
About the event
The Criminnovation Challenge is a "hackathon" style event for students to form interdisciplinary teams for the purpose of tackling societal issues related to Criminology. Faculty members will act as mentors, offering their insights from the leading-edge of their research to provide starting points to problems that student teams can explore. By the end of the weekend, students will have met new people, learned about entrepreneurship, researched a problem, designed a solution, and pitched their ideas. Prizes will be awarded to teams to help them continue their projects and change their community and the world.
Impact Signal partners Michael Lee, Everton Lewis, and Michael Law have been invited as keynote speakers during their Saturday, March 2nd keynote dinner event. During our talk, we will share our insights about crime analytics' relation to consumers, cars, horse race betting, and design. The 45 minute talk will be accompanied by 15 minutes of question and answer.
Location
97 Dalhousie Street #007, Brantford, ON
For more information about the event, or to register, go to https://www.eventbrite.ca/e/the-criminnovation-challenge-tickets-54978943500